"The kind of big economic history that the moment needs." – Chris Hughes, co-founder of Facebook and cochairman of the Economic Security Project
"Insightful." – Farhad Manjoo, New York Times
"Though anti-monopolism has been dormant for decades, the corporate consolidation of this century has given Americans on both sides of the political spectrum reason to wonder if it should be awakened. And Stoller's treatise is a good place to start in thinking through that question." Kyle Sammin, National Review
"A remarkable and fun story about corporate power in America. Stoller brings to life pivotal political fights over banks and monopolies, fights that took place in boardrooms, in hearing rooms, and in mass protests. Highly recommended." – former Congressman Henry Waxman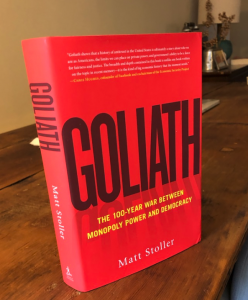 "Goliath, Matt Stoller's book on the rise of monopoly power is one of the most important books of the year. Full of fascinating unknown characters & history." – Jesse Eisinger, Senior Reporter and Editor at ProPublica and author of The Chickenshit Club
"An engaging call to arms at a time when corporate power is increasing and that of the middle class evaporating." – Kirkus
"Goliath is a meticulously researched, powerfully argued and beautifully written book. Every thinking American must read it." – The Washington Book Review
Where to Buy
You can order the book below from various monopolists, aspiring monopolists, or independent book stores.
Excerpts
The Rise and Fall of Andrew Mellon, The American Prospect
How the Democrats Became the Party of Monopoly and Corruption, Vice
How the "Watergate Babies" Released the Beast of Monopoly Upon America, ProMarket, the University of Chicago Booth School of Business Stigler Center Blog
How Reagan, Clinton, and Bill Gates paved the way for the rise of Big Tech, Fast Company
Reviews/Commentary
Barack Obama's Biggest Mistake, Farhad Manjoo in The New York Times
Monopoly and Its Discontents, Gerald Berk in The American Prospect
Kirkus review of Goliath, Kirkus
Our World Is Structured by Concentrated Corporate Power, Washington Book Review
Amid a Revival of Anti-Monopoly Sentiment, a New Book Traces Its History, National Review, Kyle Sammin
Matt Stoller's Goliath: the Rise of Corporate Monopolies by Harry Lambert, New Statesman America
Big Business Is Not the Enemy of the People, Rob Atkinson, National Review
Review: Matt Stoller's Goliath, Washington Free Beacon
Just like the "Money Trust" before it, Wall Street is a threat to democracy, Carter Dougherty, Take on Wall Street coalition of labor and consumer groups
Goliath review: Wall Street, Main Street … and Warren as McGovern 2.0? Lloyd Green, The Guardian
How to Break Up Corporate Giants by Robin Kaiser-Schatzlein, The New Republic
It's Not Enough to Be Against "the Monopolies" by Nicole M. Aschoff, Jacobin
Book Review: Goliath: The 100-Year War Between Monopoly Power and Democracy by A.C. Breeden, Appeal to Reason
If you've written a review and it's not listed, let me know by sending me an email at stoller at gmail.com.